LiteCure Class VI Cold Laser
Advanced Pain Relief Now Available
Bodeelogic Massage & Wellness is among the first in the area to invest in a Deep Tissue Therapy Laser from LiteCure Medical.

Drug free, pain free is the goal for individuals suffering from acute and chronic pain. Now Bodeelogic Massage & Wellness offers you a non-surgical option that truly hs the power to eliminate or significantly reduce your pain. Five to ten brief treatments with this powerful laser is all it takes to realize life changing results. The Deep Tissue Therapy Lasers work by flooding the tissues with photons, energizing the damaged cells and increasing circulation to the painful area. This produces a cascade of healing responses in your body, reducing inflammation, thereby reducing or even eliminating your pain. Treatments take just a few minutes, however the therapeutic effect continues to soothe and heal long after you leave the office
During treatment you will feel a soothing warmth that identifies the beginning of an 18-24 hour process of modulated cellular activity leading to decreased pain and inflammation. Laser therapy is effective in treating chronic conditions, acute conditions and post surgical pain.
CLINICAL BENEFITS
* Effective for difficult conditions * Fast treatment times * Easy non-invasive treatment * Scientifically proven treatment
* Provides an alternative or supplement to prescription drugs and surgery
* LiteCure is the brand of laser preferred by professional sports teams
SCIENCE
LiteCure is the most active provider of clinical research and ongoing clinical studies in the field of laser therapy. Products and treatment programs are designed based on over 20 years of scientific studies, providing you with the most effective treatment modality available.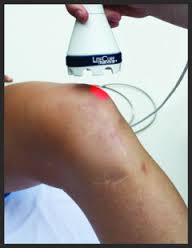 Bodeelogic Massage & Wellness is a medical and sports massage focused company that also delivers holistic therapies to help you restore, rejuvenate and re-center yourself. It is owned and operated solely by Ms. Diane 'Dee' Steffee, CLMT, CMMP.
Whether you are experiencing an injury, recovering from surgery, have chronic pain, stressed from life and work, are an elite athlete, weekend warrior or somewhere in between, Bodeelogic Massage can get you back to work, back to competition or just back to quality life and help keep you there.
LIFE + PURPOSE + CREATE = BODY + MIND + SPIRIT
REFERRAL REWARDS!
The greatest compliment for me is for my clients to send referrals to me. For every referral you send to Bodeelogic Massage & Wellness, they will receive $10 off their first session and YOU receive $10 off your next session. If you prefer, allow your referral rewards to add up for a FREE session. YOU decide. ( Sorry, not to be combined with discounted packages or other specials)
IF you, your team, group or club is looking for a quality sports massage technique that will improve recovery time, reduce the risk of injury, aid in performance, quality and intensity, call for a demonstration. 816-665-2045